Yo Yehudi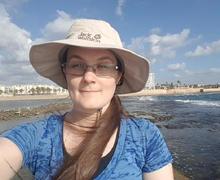 Open Source Tech Lead, Data for Science and Health, at the Wellcome Trust. Co-founder, Open Life Science.
Yo is a Software Sustainability Institute Fellow,
founder of [Code is Science](http://www.codeisscience.com/manifesto),
[EngD student at the University of Manchester](https://www.research.manchester.ac.uk/portal/yochannah.yehudi-postgrad.html)
studying the effects of community and usabilty on open source software,
editor for the [PLOS Open Source Toolkit](https://channels.plos.org/open-source-toolkit),
board member of the [Open Bioinformatics Foundation](https://www.open-bio.org/board/). Previously a software developer at the University of Cambridge, working on an open source biological data warehouse called [InterMine](http://www.intermine.org).

Links
Events