/
/
/
Gonzalo José Carracedo Carballal
Gonzalo José Carracedo Carballal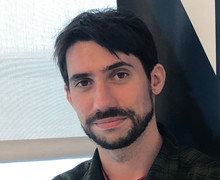 Gonzalo J. Carracedo (BatchDrake) is a computer engineer with a background in numerical simulations that currently works as Innovation Advisor in Tarlogic Security SL. He is a huge nerd of space communications and radio astronomy, which led him to develop SigDigger and enroll in the master's degree in astrophysics he's currently studying at Universidad Complutense de Madrid (UCM).
Being interested in fields like programming, electronics, science, physics, and space, Gonzalo J. Carracedo studied computer engineering at Universidade da Coruña (Spain) in 2007-2011, got a master's degree in mathematical engineering from Universidade de Santiago de Compostela (Spain) and Modelization and Simulation from École Centrale Paris (France). Former CTF player in the spanish team Painsec, he has been working as a software engineer and white-hat hacker in different companies since 2013, performing tasks like reverse engineering pirated FTA Satellite TV receivers and analyzing the vulnerabilities of PLC-based smart electricity meter networks in Spain.
He is also a ham radio operator (callsign EA1IYR) and spends his spare time researching radio propagation, signal processing, and blind demodulation of unknown signals. He's well known for his space-consuming experiments like a homemade primary-focus 3-m HI radiotelescope and a smaller 1.2-m C-Band radiotelescope, and CPU-consuming open source projects like SigDigger. Fortunately, not everything in his life is devoted to technical stuff, and gets some good old mind detox taking theatre classes.
If you run into him and starts talking to you about something overly niche about how CO molecules emit radio photons because of their rotational modes, it is totally okay to ask him to stop, he has a hard time telling when he's being too passionate about something around others. In fact, he's probably going to thank you for it.
Links
Events