/
/
/
/
Florian Wessels, Leon-Elias Oltmanns and Lamin Njie - Mautic und TYPO3 - Eine unsichtbare Verbindung
Florian Wessels, Leon-Elias Oltmanns and Lamin Njie - Mautic und TYPO3 - Eine unsichtbare Verbindung
Leuchtfeuer Digital Marketing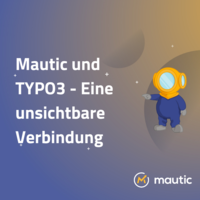 In dieser Session möchten wir euch vorstellen, wie einfach sich Mautic mit einem Content Management System (CMS) verbinden lässt.
Am Beispiel von Formularen und dynamischen Inhalten zeigen wir euch, wie CMS-Redakteure zur Leadgenerierung beitragen können, ohne sich dabei mit Mautic auseinandersetzen zu müssen.
Visit the Florian Wessels, Leon-Elias Oltmanns and Lamin Njie - Mautic und TYPO3 - Eine unsichtbare Verbindung at stands.fosdem.org.
Links