/
/
/
/
Steve Robinson - Maximizing Evergreen Content with Mautic
Steve Robinson - Maximizing Evergreen Content with Mautic
Founder & CEO at Brilliant Metrics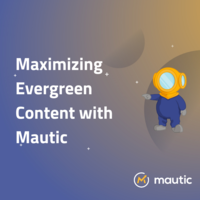 One of the keys to digital marketing success is maximizing content re-use. Mautic gives us a number of great tools to ensure that content is consistently given maximum exposure to the right audience at the right time, making each piece an asset that works for you indefinitely.
In this session you will learn best practices for building evergreen nurtures, applying website personalization, and linking Mautic with your paid media efforts to let your content live forever and continue to produce returns long after it's produced.
Visit the Steve Robinson - Maximizing Evergreen Content with Mautic at stands.fosdem.org.
Links