/
/
/
/
Dominique De Cooman - Creating personalised digital experiences with Mautic
Dominique De Cooman - Creating personalised digital experiences with Mautic
CEO & founder Dropsolid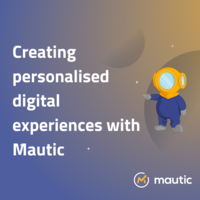 Are you looking to use a Marketing Automation tool to improve the experience of your customers? This session will walk you through using Mautic in a user centric context.
It will cover how to use customer data collected from website behaviour to personalise automated interactions coordinated with Mautic, how to use Mautic as a part of your digital experience platform, and why this is important to create more meaningful conversion, more time on site and improve overall customer success.
Visit the Dominique De Cooman - Creating personalised digital experiences with Mautic at stands.fosdem.org.
Links