/
/
/
/
Dries Buytaert - Built to Last: Growing Sustainable Open Source Communities
Dries Buytaert - Built to Last: Growing Sustainable Open Source Communities
Founder and Project Lead, Drupal & Co-founder and CTO, Acquia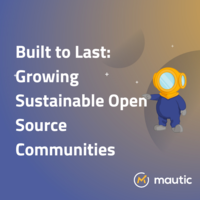 What does it take to start and scale one of the largest and most active Open Source communities in the world? As founder and project lead of Drupal, Dries Buyaert will share the story of Drupal's humble beginnings, to its rise to power 1 in every 35 websites in the world. Its inclusive, global community serves as a model in Open Source, sustaining a growing number of corporate and volunteer contributions every year. He later co-founded Acquia, a Digital Experience Platform company with over 1,000 global employees built around Open Source. In the summer of 2019, Acquia acquired Mautic Inc.
Today, Dries is still the Project Lead of Drupal and the Chief Technology Officer of Acquia. Through sharing his personal journey, he'll share some lessons he's learned over the years around scaling and growing Open Source projects.
Visit the Dries Buytaert - Built to Last: Growing Sustainable Open Source Communities at stands.fosdem.org.
Links