/
/
/
Developer rooms
/
/
Mentoring designers in open Source Software.
Mentoring designers in open Source Software.
What I've learned mentoring and supporting designers in OSS.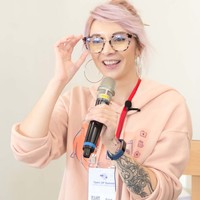 Designers are still relatively rare in the FL/OSS space and those that have been around and active are burning out and struggling to peer support each other effectively. I see mentoring designers, new to open source software as a key way in which we can make FLOSS sustainable generally and specifically for the designer community in FLOSS.
In this session, I'll be outlining what I've observed and done as a 'mentor' in the FLOSS design space. What I've tried to do to support designers new to FLOSS in order to 'boost' our numbers actively contributing and keeping our community and OSS healthy. But there's plenty of ground unexplored here, which is why I'd like to spend half of the session actively workshopping via a shared etherpad document how we can mentor designers more sustainably withing FLOS.
What is needed by those that want mentoring? What do FLOSS projects need support with? How can mentors share resources and processes?
and likely, many more questions to collaboratively work on.
Speakers
Attachments
Links