/
/
/
Main tracks
/
/
Global Diversity CFP Day
Global Diversity CFP Day
Advance registration needed.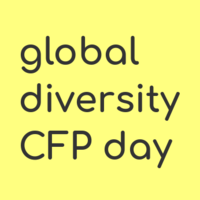 On Saturday 3rd February 2018 there will be numerous workshops hosted around the globe encouraging and advising newbie speakers to put together your very first talk proposal and share your own individual perspective on any subject of interest to people in tech. Mozilla and the Mozilla TechSpeakers will bring this global event to Brussels during the first day of FOSDEM, and during the workshop will also provide CFP help and mentoring to any of the FOSDEM participants.
Global Diversity CFP Day is an event happening across the globe, simultaneously in 40+ cities on the 3rd of February. The Brussels event is organized at FOSDEM as the libre conference/community gathering and the GDCFPDay dates coincide happening on the same weekend. The Brussels event is organized by the Mozilla TechSpeakers, a community program by Mozilla for empowering and improving the skills of community public speakers in Mozilla's open-source community.
Registration
Attending the CFP workshop is completely free but subject to registration. Please get your workshop ticket from the workshop ticket registration, and please don't forget to fill out the ticket-questionnaire, so we can make sure we can provide you with the best workshop experience with minimal distractions so you can concentrate on your improvement!
If the initial tickets run out, don't worry, we are reserving some workshop places for first-time speakers and members of under represented groups, so be sure to apply for the waitlist ticket and keep an eye on your mailbox, we will get back to you when we have some extra spots open up.
Mozilla TechSpeakers CFP-help
Cannot make it to the workshop? Just have some questions about public speaking or writing conference proposals? Drop by on Sunday between 09:30 and 11:30 in J.1.106 or at the Mozilla Booth between 14:00 and 16:00 and talk to some seasoned veteran Mozilla TechSpeakers about public speaking, or ask them questions about public speaking/cfp-s in general or your talk (idea).
Code of Conduct
All Mozilla events are governed by the Mozilla Community Participation Guidelines and this GDCFPDay workshop is no exception. The Community Participation Guidelines (CPG for short) of Mozilla contains the general conduct required of all Mozilla community events and serves as a Code of Conduct for all events organized by Mozillians, and events where Mozilla (and thus, Mozilla TechSpeakers) are represented. By attending the GDCFPDay even you accept to read, understand and act in compliance with regard to the expectations set forth in the CPG (the short version of which is "Be excellent to each other and treat each other with respect and care.", but please do read the "long version").
These expectations will be observed and proper conduct will be enforced, without exception, by the organizing team.
Any infringements or issues can (and should) be reported at the coc@tchspk.rs e-mail address or to the following people (in person or via the contacts listed below: * Istvan Szmozsanszky ("Flaki") - flaki@mozilla.hu / +1-929-433-7980 / @slsoftworks on twitter & telegram * Havi Hoffman - hhoffman@mozilla.com
Speakers
Links