My Lê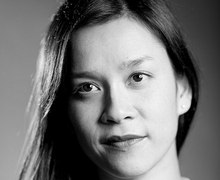 Working as a UX and UI designer, I am inspired by arts, illustration, typography, literature. My aim is to share my design and artistic practice, and spread the word about Open Design. I support Free and Open Source projects, softwares and services.
Thanks to friends and former colleagues (who are part of OSP and Constant vzw organisations, based in Brussels), I discovered Open Source a few years ago. It influences my point view: we have to choose correctly the tools we need, or might create them, trying not to depend on private firms or interests; we need to be able to modify them, share them, make them accessible to as many people as possible.
Sharing skills and knowledge is part of my wishes. As a Mozilla volunteer, I regularly give "Initiation to HTML & CSS" workshops, because I wanted my turn to share what I have learned. As a co-organiser —and contributor— of the 1st edition of the Cofestival, organized at Mozilla Paris (sept. 2015), I was deeply committed to share and broaden scientific and technologic know-how, in an accessible and inclusive way. Education and transmission are essential for me. It enables strong knowledge basis —which can be then improved—, and free us from external discriminating wills.
 Today I spread the word about Open Design to open the creative process, to facilitate communication and collaboration with non-designers.
Links
Events