/
/
/
Developer rooms
/
/
Opening up accessible design
Opening up accessible design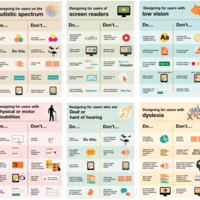 At the Home Office, UK we designed a set of posters aiming to promote accessibility, raising awareness of various users and conditions through good design practice. By sharing them openly with others, they've become something better, and have been made even more accessible along the way.
We'll be discussing how the posters started with an idea and by keeping them open-source, have lead to lots of collaboration, engagement and feedback. We've had requests for translating the posters and learned some things along the way. We're also embarking on an exciting new project with these posters which will be elaborated on.
Karwai Pun is an interaction designer at the Home Office, working on making digital public services more accessible.
Speakers
Attachments
Links