/
/
/
Main tracks
/
/
ARM: Allwinner sunxi SoC's and the community behind it
ARM: Allwinner sunxi SoC's and the community behind it
The most opensource (friendly) SoC!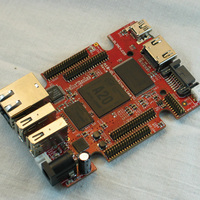 The Allwinner series of System on Chip (SoC)'s has a healthy community around this interesting little chip. This talk will bring interested listeners up to speed in how it all got started and where we, as a community, are today.
In 2011 Allwinner surprised the market with its low-cost Cortex-A8 A10 SoC. In 2012 the A10 and it's smaller brothers the A10s and A13 where found in nearly all Cheap tablets and android-tv-sticks. This alone attracted a lot of hackers and enthusiasts to work on the Allwinner A-series of SoC's.
A few of these hackers started to form the linux-sunxi.org community supporting, hacking and even Reverse Engineering these SoC's.
We are excited to share with you in this talk of what has been done so far and where we are heading. One of the most famous hackers amongst the Fosdem crowd would have to be Luc Verhagen (libv) with his lima work, which he did a lot of on A10 hardware. But many others have worked since then on these little SoC's and the most important recent breakthrough is the Reverse engineering of the CedarX Video Processing Unit (VPU) which makes it possible to playback accelerated mpeg and h264 video with zero closed source blobs or firmwares which in itself is an amazing feat.
Taking this opportunity we welcome you to join us to learn more about these amazing SoC's, see what they are capable of in a little Demo and how you could potentially contribute come join us at FOSDEM 2014.
Speakers
Attachments
Links