Certification exams
A number of certification exams will be offered at FOSDEM 2014.
The Linux Professional Institute and the BSD Certification Group will organise exam sessions during FOSDEM 2014. Interested candidates will be able to register for exams with the respective certification groups.
Exam schedule
The schedule for the exam sessions is now available.

LPI offers discounted certification exams at FOSDEM 2014.
As in previous years, the Linux Professional Institute will again offer a discount to examination candidates at FOSDEM 2014.
The level 1, level 2 and level 3 exams are offered at a discount of nearly 50%.
The following examinations are offered. Exams will be in English (all LPICs) or French (LPIC 101 and 102 only).
Registration procedure
Register for an LPI ID on the following website:
https://cs.lpi.org/caf/Xamman/register
Sign up for a specific exam session at:
http://lpievent.lpice.eu/
Note that due to limited seating, there is a maximum of 50 candidates per session.
You must bring valid photo identification and your LPI ID to the exam lab.
Pay for the exam at FOSDEM (in cash).
About LPI
The Linux Professional Institute (LPI) is an internationally recognized, vendor-independent organization advocating and assisting the professional use of Linux, Open Source and Free Software, through the certification of Linux professionals.
Established as a non-profit organization in 1999, LPI is community based and supported. LPI's certification program is delivered worldwide in multiple languages at over 7,000 testing locations and is supported by an affiliate network spanning five continents. Since the program's inception, LPI has delivered over 300,000 exams and 100,000+ LPIC certifications around the world.
---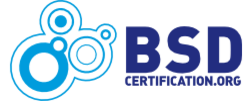 BSD Associate certification
The BSD Certification Group (BSDCG) will offer the BSDA certification exam to attendees of FOSDEM 2014. One exam session will be offered.
Exam candidates should be proficient in the BSDA Certification Requirements and the Command Reference, both of which are available for free download from the certification page of the BSDCG website.
The following exam is offered. The exam will be paper based and in English.
Registration procedure
Participants have to register for a BSDCG ID at https://register.bsdcertification.org/register/get-a-bsdcg-id. Note that it may take up to 24 hours to receive a BSDCG ID. Once you have an ID, you can choose an exam location and pay for the exam from the same website. Prices are $75 USD and payable through PayPal or credit card.
Exam candidates must bring valid photo identification matching the name they used when they registered for their BSDCG ID. Due to limited seating at the event, exam pre-registration is recommended.
About BSDCG
The BSD Certification Group Inc. is a non-profit organization committed to creating and maintaining a global certification standard for system administration on BSD based operating systems.
The BSDCG works with the BSD and sysadmin communities in order to provide a practical and relevant certification.