/
/
/
Developer rooms
/
/
webPh.one - connect community cellular networks using WebRTC and PWA
webPh.one - connect community cellular networks using WebRTC and PWA
Open Source , WebRTC and Web technologies for community communication infrastructure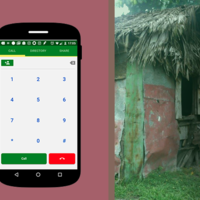 How do we in 2017 create a mobile, cross-platform App to connect people in the internet to community GSM networks for calls and texts with a small team and limited time? SayCel and Rhizomatica, together with Altermundi and other individual contributors, have created an open source WebRTC dialer as Progressive Web App and a WebRTC gateway to solve this not so trivial problem.
Community Cellular (GSM) networks usually connect to the PSTN through SIP trunks that are connected via an Internet back-haul. For outgoing calls, PSTN termination costs have to be paid, and for incoming calls the caller usually tediously needs to enter the extension after connecting to a dial-in number, and it's not possible to directly send text messages. This project uses WebRTC and Progressive Web App (PWA) technologies, implemented with the open source Kamailio+rtpEngine WebRTC gateway, SEMS, and an Angular app to connect people around the world on their smartphones and laptops directly to the users on the community cellular network for calls and texts. The open source webPh.one dialer is also an interesting technology base for other projects that need an App to connect to a SIP network. The talk gives a short intro to the two community cellular networks that have been connected (17 villages in Oaxaca, Mexico; PearlCel in Nicaragua), the problems that had to be solved and technologies used while doing so, and the solution this project created. It also gives our experience where today the limits of a pure PWA are, and shows our efforts to create docker-compose images for the infrastructure part.
About Rhizomatica: Through efforts around the world, Rhizomatica uses new information and communication technologies, especially mobile telephony, to facilitate community organization and personal and collective autonomy. Rhizomatica's approach combines regulatory activism and reform, development of decentralized telecommunications infrastructure, direct community involvement and participation, and critical engagement with new technologies. Rhizomatica works with TIC AC in Mexico, operating community communications networks of 17 indigenous villages in Oaxaca.
About SayCel: SayCel is a research and development company dedicated to creating communications and infrastructure solutions for developing communities. SayCel currently works with local governments on Caribbean Coast of Nicaragua to increase the mobile communications services in the region. SayCel installs wifi data backhaul, rural fiber, and ethernet over coax. SayCel provides maintenance and training and in return, local governments are able to have a sustainable communications utility that they can use to lower the cost of communication for citizens, increase efficiency in their local government process, improve security through a local 911 service, and assist in growing their local economies. SayCel was supported by NYU's RiskEcon Lab and UNICEF Innovation Fund for the development of this project.
Speakers
Attachments
Links