/
/
/
Main tracks
/
/
Sustainability of Open Source in International Development
Sustainability of Open Source in International Development
A new approach from the United Nations Foundation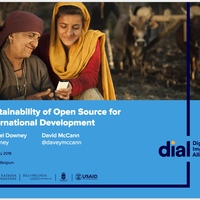 Today's global climate of international development funding cuts, along with growing challenges in sustainability of FOSS projects generally, means we need to focus on co-investment in shared resources for those projects -- the mission of the DIAL Open Source Center.
Duplication of effort, flawed funding models, and overall lack of project maturity has led to the failure of most free & open source software projects in the international development space. In this talk, we'll discuss the new Open Source Center at the Digital Impact Alliance (DIAL), an initiative of the United Nations Foundation. The Center's aim is to help increase those projects' maturity, quality, and reach -- with a goal of advancing an inclusive digital society using FOSS for the poorest places on the planet.
Over the past decade, the international development community has been exploring how the use of modern technology — including tools like the mobile phone, the Internet, as well as free & open source software — can extend the reach of its work. At the same time, these same organizations have struggled to leverage FOSS in an effort to make their work more participatory, sustainable, and effective.
Mainstream software often used in wealthier markets do not always fully meet the specialized needs of international development projects and the areas in which those projects are undertaken. Other fields have demonstrated the FOSS development model as a proven viable model to leverage global collaboration to share costs across institutions, increase the quality of products, and more rapidly innovate.
In the international development community, the results have been mixed. Relatively few of these FOSS projects have endured & matured — when successful, enabling improved and sustained access to information and services that previously were out of reach for marginalized populations. Many efforts have failed, often due to preventable reasons.
These FOSS digital development projects usually struggle with lack of long-term investments in key focal areas such as community effectiveness & product development. Without emphasis of these key considerations, they can rarely match the functionality and quality of their proprietary competitors. As a result, these FOSS projects can't grow to the more advanced levels of maturity needed for widespread adoption throughout the development field.
In collaboration with partners around the world, the Digital Impact Alliance (DIAL) at the United Nations Foundation is launching its Open Source Center, a multilateral participatory program designed to be a global focal point of FOSS digital development projects. In this talk, you'll learn:
Why we believe this type of program is key to ensuring the maturity & sustainability necessary for long-term success of digital development FOSS projects,
What we believe are the 4 key pillars to mature tech-for-development FOSS projects, and
The five areas of services which will be provided to participants, and our thoughts on translating our approach to other sectors.
We'll also discuss our systems for governance, evaluation of participating projects, and financial sustainability strategies for the program.
If you're interested in cross-project collaboration to advance the impact of free & open source software in a specific area of work, come learn about our plans to transform the international development FOSS space, and share your feedback!
Speakers
Attachments
Links