/
/
/
Developer rooms
/
/
GrayLog for Java developers
GrayLog for Java developers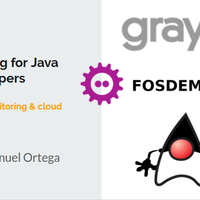 For developers, application logs are critical to figuring out what's going on inside the apps we create. We tail them. We search them. We analyze and graph them.In this talk I will show Graylog as an open source log management tool, providing central storage, processing, and analysis of log messages powered by Java,MongoDB and ElasticSearch
These could be the talking points:
1.GrayLog architecture
The Graylog log server is based on Java and offers a means for combining several server nodes in a cluster for high availability and scalability. Graylog uses Elasticsearch as database for the log messages as well as MongoDB for application data.
2.Searching and analyzing: Graylog Web Interface
Graylog also has a web interface for searching and viewing Graylog messages. Filters can be applied and saved into logical "streams", allowing you to look at a slice of your data.
3.Use case:Configure graylog in java projects with maven
As a standard for log events, Graylog promotes usage of the Graylog Extended Log Format (GELF) I will show a use case configuring graylog inside java project with the GELF appender.
4.Integrating GrayLog with LogStash
In order to create a full log solution it is suitable to combine Graylog with Logstash with a little modification of Logstash and a custom Graylog Plugin.
Speakers
Attachments
Links