Nathan Hughes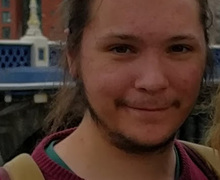 Currently a computer science student at Aberystwyth University, working with the National Plant Phenomics Centre in Wales. I have a real passion for working with computers and biology to produce research data.
With a love of software engineering and a huge interest in science as a whole, I will gladly talk for hours to anyone about the two subjects coming together. I am also a firm believer that free and open source methods are the only way for us to keep progressing.
I have still one more year of my undergraduate degree in software engineering, after which I hope to pursue a postgraduate degree in bioinformatics or else computational biology.
Events