/
/
/
Developer rooms
/
/
Polymorph
Polymorph
A libre game engine based on Ogre3D and Puredata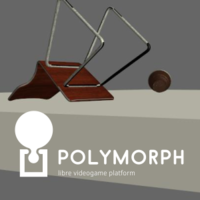 Polymorph, a libre videogame platform.
We produce art installation and video games using a tailor-made libre game engine based on Ogre3D (visuals) and Puredata (sounds).
Polymorph has been started in July 2016.
The first projects we are working is Tuning Game, in collaboration with Contredanse asbl, and PEEL, a 3d puzzle game.
It is open to visual artists, designers, academics, musicians, developers et enthusiasts focused on experimental video games, programming and interactive applications.
It is a place dedicated to exploration of video game medium, aesthetically, theorically, artistically and technically.
We are also careful about the influence of the tools on the work we do. Therefore, we choosed to work with a libre software suite, including blender, gimp and inkscape for content creation and Ogre3D, Puredata, Bullet and other libraries for the game engine. Other libre engines are welcomed.
We are providing the game engine as a complete package, ready to install with installation procedure and examples.
Speakers
Attachments
Links