Vincent Jardin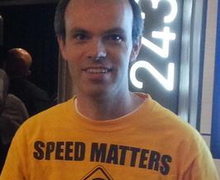 Vincent JARDIN is 6WIND's CTO since 2006. He leads the design of 6WINDGate, the company's flagship embedded networking software solution for multicore processors, which was rapidly adopted beginning with 3G/4G core infrastructure equipment, then with high performance network appliances and now with high performance NFV. It provides a seamless path to bare metal and virtualized architectures.
Vincent is also in charge of developing the company's patent portfolio. He co-founded the Quagga project in early 2002, the well-known open source project for routing, and remains one of the contributors. He is also a major architect and founding member of DPDK.org, a major open source community that enables high performance network applications such as NFV.
Vincent is a strong advocate of doing open networking and performance with Linux while providing system freedoms.
His main skills are in designing high performance packet processing solutions for open systems. Vincent speaks frequently on high performance Linux networking in events such as LinuxConf, FrNOG or DPDK seminars.
Links
Events