Balaji Padnala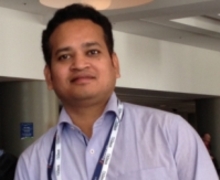 Balaji Padnala is a Principal Staff Systems & Software Engineer, working in various roles at Freescale Semiconductor from the past 6 years. Involved in Virtualization Enablement Software development for Network Function Virtualization using KVM, Libvirt, OpenVSwitch and OpenStack. His past speaking experience includes a sessoin on "Network Infrastructure Virtualization with Embedded Power Architecture KVM" at 2013 Linux Foundation Collaboration Summit, San Francisco.
Currently working on Cloud Resource Discovery and Integration of FSL OpenFlow Controller using OpenStack, KVM , Libvirt and OVS.
He has made presentations on Cloud Computing and OpenStack, Network Function Virtualization using KVM, Libvirt and OpenStack for different Teams in Freescale and Intrusion Protection Systems and Pattern Matching Accelerators Demo at FTF.
Events