Tasso Mulzer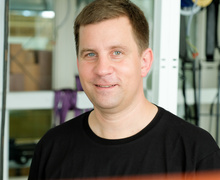 "Father" of FabAccess, a FabLab and 3 children. On the border between nerdistan, industry and science.
"With industry experience into education" - this plan worked out. Since 2014, Tasso Mulzer has been a laboratory engineer at Department VII in Berlin University of Applied Science, after working as a development engineer at EBK Krüger GmbH (now EBK Group). "I had some exciting projects whose technology ended up in forklifts or the Porsche 911." In the lab, he helps students "get over the hurdles of practice on the equipment." Technical development is also part of his job. After training as a communications electronics technician, he moved from Munich to Berlin. At the TFH, he graduated in 2010 with a degree in mechatronics, one of the last Diplom-Ingenieur (FH).
In addition to his work, civic engagement is very important to Mulzer. Anything that involves education, digitization and technology captivates him. For 17 years, he was active with the German Federal Agency for Technical Relief (Technisches Hilfswerk) as a group leader in the infrastructure section and squad leader in the wide-area transport squad. But "number one is my family - they deserve it no other way!" says the married father of three proudly. In their free time, the five are sailing on the water from time to time.
Links
Events