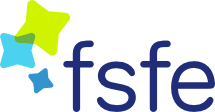 Meet FSFE's team, get informed about our activities, and ask us anything!
💬 Matrix chat rooms: FOSDEM stand @ #fsfe-stand:fosdem.org launch / General FSFE space @ #fsfe:fsfe.org launch
About us
Free Software Foundation Europe is a charity that empowers users to control technology.
A look inside the FSFE, what we do, how we work, and our awesome community
The core values of software freedom
Learn about "Public Money? Public Code!"
Upcycling Android, our new campaign for more sustainability
Software is deeply involved in all aspects of our lives. It is important that this technology empowers rather than restricts us. Free Software gives everybody the rights to use, understand, adapt and share software. These rights help support other fundamental rights like freedom of speech, freedom of press and privacy.
Want to know more? Here's our mission ⭐, our activities 🚀, and how you can become part of all this 💪. And hey, if you would like to watch more videos, check out our Peertube instance 📺!
FSFE Updates
In the past year, we have made remarkable progress in a number of our activities. Some examples:
Read the complete overview of our activities in 2021 – but take some time, it's been a lot! :)