Markus Lippert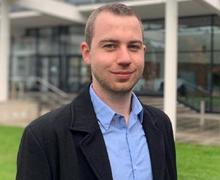 Markus Lippert is working for COSMO CONSULT (cosmoconsult.com) as a DevOps Engineer and technical lead for a self-service solution built on cloud technology.
Born near Ulm in Germany, Markus got his master's degree in computer science and started as a developer for Business Software and .NET. After different positions with development and operations tasks, Markus became DevOps Engineer for COSMO CONSULT.
He is blogging on lippertmarkus.com, where he writes about DevOps, Windows Containers and cloud-native technologies, but also tooling like Visual Studio Code. His other focus is Azure, mainly around container orchestration and automation.
When Markus isn't busy trying out new technologies, he also loves to work on his personal development by doing sports, hiking or reading.
Links
Events