/
/
/
Developer rooms
/
/
Mainlining the reMarkable 2 eInk tablet
Mainlining the reMarkable 2 eInk tablet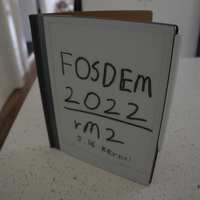 The reMarkable 2 is an eInk tablet, based on the i.MX7 SoC. The tablet ships with a fork of the 4.14 kernel and a custom rootFS built with OpenEmbedded. The vendor kernel is based on the NXP vendor kernel with a large collection of rM2 specific patches on top.
This talk discusses the process of adding support for the rM2 to the mainline Linux kernel. The talk first discusses the process of understanding the original boot process and then getting access to a download mechanism and serial console.
Finally the talk covers the process to start upstreaming the patches from a vendor kernel to the mainline kernel.
Speakers
Attachments
Links