Suraj Shah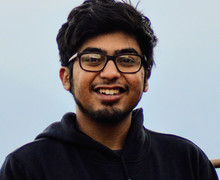 Senior Software Engineer at Quiph, open source contributor to Firefox, Realm and MongoDB.
Reading. Traveling. Photography. Beer
I like talking about Kotlin and languages in general.
I write backend and android applications.
Like writing in Kotlin and Java, though Golang has caught my attention and am currently learning the language, not to mention that it's amazing! Kotlin MVP would be a tough competition to Golang I feel.
I like reading in general. Currently reading "All the light we cannot see". Love how few characters placed on a paper can have such an effect on a human.
I hate social media. I'm not on WhatsApp or Instagram or any of such apps. But I love photography, so i come once in a year to upload all my photos on instagram.
That's all folks!
Links
Events