Slavey Karadzhov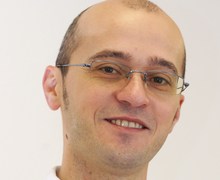 Slavey Karadzhov is a passionate programmer, open source supported and snowboarder since his early childhood. Founder of Linux-BG.org(https://www.linux-bg.org) - fee/open source community portal in Bulgarian and release manager and core developer at Sming Framework (https://github.com/SmingHub/Sming) - open source framework for IoT and embedded devices.
Slavey is a proud owner of two master degrees(aka Cube-Master) - one in Computer Science from Sofia University, Bulgaria and one in Software Technologies from Stuttgart University of Applied Science, Germany. Last but not least Slavey is awarded software innovator and a person who is always interested in checking the latest "hype" technologies in the open source world.
During his free time he likes to travel in exotic places, read books and enjoys the time with his family.
Events