James Vasile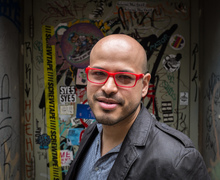 The speaker description is potentially outdated as it is from a previous FOSDEM edition.
James Vasile has fifteen years experience as a user, developer, advocate and advisor in the free and open source software world. He helps governments, NGOs and industry understand the opportunities and risks that come with Open Source's steadfast march towards dominance in every sector touched by technology. He has launched ambitious projects, designed innovative systems, and advised a constellation of open source's brightest lights. James's technical experience also allows him to act as outsource CTO/Architect, due-diligence open source expert, new venture advisor, and more.
James's previous work includes being the founding Director of the Open Internet Tools Project, booting up Techno-Activism Third Mondays (a meetup that gathers people in over 20 cities around the world every month), launching the Circumvention Tech Festival (which has become the Internet Freedom Festival), and overseeing a 1000+ volunteer translation project now know as Localization Lab. He was also a founding board member and is now part owner of Overview Services, which makes open source software that powers Pulitzer-winning data journalism. Previously, James was a Senior Fellow at the Software Freedom Law Center, where he advised and supported a wide range of free software efforts. A former Director of the FreedomBox Foundation, James remains active in several technology development efforts. His FreedomBox work has been recognized by an Innovation Award at Contact Summit 2011 as well as an Ashoka ChangeMaker's award for Citizen's Media. James was also a founding board member of Open Source Matters, the non-profit behind Joomla. You can learn more about him from his GitHub activity and his LinkedIn profile, or by connecting with him on Twitter.
Links
Events