Brian Richardson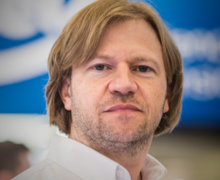 The speaker description is potentially outdated as it is from a previous FOSDEM edition.
Technical Evangelist & director of Firmware Ecosystem Development at Intel Corporation
Brian Richardson is a Technical Evangelist & Director of Firmware Ecosystem Development at Intel. He has spent most of his career as a "BIOS guy," working on the firmware that quietly boots billions of computers. Brian has focused on the industry transition to the Unified Extensible Firmware Interface (UEFI) and supporting the TianoCore open source community. He has presented at a variety of conferences and seminars including LinuxCon, UEFI Plugfest, and Linaro Connect. When he's not talking about firmware at conferences, Brian takes photos of his travels and procrastinates on various video projects.
Links
Events