/
/
/
Developer rooms
/
/
Web of Twins
Web of Twins
From IoT to Immersive worlds and beyond...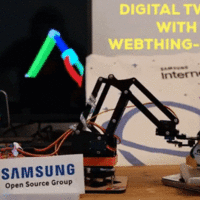 Overview of Web of Things concept, Mozilla WebThings IoT platform demonstrated using A-Frame 3D framework for building virtual reality experiences.
The Web of Things connects real-world objects to the World Wide Web, Mozilla proposed an open source implementation of Web of things concept. to connect and control smart home devices with Privacy by design.
Once the WebThing platform is in place WoT can be used for many other purposes,
As a demonstration, devices can be also "mirrored" in a virtual world and interacted differently using XR devices.
Using A-Frame framework it's very easy to create models and keep the the Digital Twins updated in real time on the Web.
Each components of this "Web of Twins" experiment will be detailed from sensors or actuators to rich 3D user interfaces and more.
Speakers
Links