/
/
/
Developer rooms
/
/
Insight Fieldtracks
Insight Fieldtracks
Tracking firefighters, medics & actors during field training exercises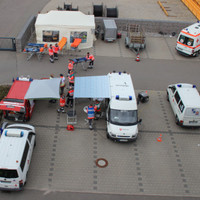 Understanding the course of a drill is important for both steering and evaluation. Fieldtracks implements localization and tracking based on BLE, ESP32 and mesh networking for indoor and outdoor environments. This talk will introduce you into fieldtracks and its challenges.
Back in 2018, we started implementing a small prototype for indoor tracking using inexpensive and compact Espressif ESP32 devices. Beaconing and scanning at the same time, results are transmitted using MQTT for real time analysis and recording.
The first results looked promising and shifted the focus towards user-experience (UX) and visualization. An Angular client allows accessing data in real-time, utilizing a distributed on-site network integrated into the cloud. On-site, UX also concerns the rapid tactical deployment of mesh networks utilizing various links (IEEE 802.3 / 802.11, ITU G.992.5 aka DSL).
The initial deployment happened in September 2019. It has demonstrated the general feasibility and outlined the room for a lot of UI and UX improvements, from which the need for expertise and new contributors has arisen.
Let's have a look at the challenges we encountered building the network and see, why it's exciting to build an IoT-network to be used in the field. We would like to invite you to work with us and welcome some networking later on.
Speakers
Attachments
Links