/
/
/
Developer rooms
/
/
Free Knowledge Game Jam: Bringing Two Worlds Together
Free Knowledge Game Jam: Bringing Two Worlds Together
How we ran a game jam for Free Knowledge and made everybody happy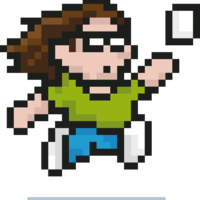 This year Wikimedia Deutschland e.V. partnered with the Computerspielemuseum Berlin and Cologne Game Lab to hold the first ever Free Knowledge Game Jam in Berlin in October 2015. A game jam is hackathon for games, where over the course of 24 hours, a game (or a prototype) should be developed. In our game jam we gave out a common theme: use one aspect of Free Knowledge in the game. The event was a great way to bring two worlds together - the world of Free Knowledge and Open Source software and the (often verycommercially-minded) game industry. This talk aims to introduce you to our concept of creating and promoting open source and free knowledge games via a game jam. Of course we will show you some of the creative games made during this event, too. Some games in-corporated open assets like graphics and sound. Some others used data or photos which are free to use via the Wikimedia APIs or repositories of Free Knowledge like Wikimedia Commons.
This talk is aimed at developers who are looking for a way to use open content for their games and for game jam organisers who will get an insight into what its like to push the creation of open source games in a fun way.
We worked together with partners such as the Computerspielemuseum Berlin, Gamelab.berlin from the Humboldt University Berlin and Cologne Game Lab. Furthermore, we had media partners such as the well known indie game festival A.MAZE and the Berlin city senate project Projekt Zukunft which helped us make the event as great as it was.
Speakers
Links