/
/
/
/
Introduction to Augmented Reality
Introduction to Augmented Reality
Creating Augmented reality costume: concepts, tools, decisions, failures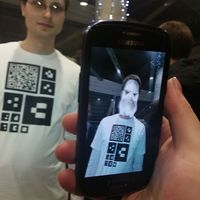 Augmented reality is not a new technology, but still impress people, when they see 3D person rising out of the paper. What about Augmented reality costume? Do you want to make one for yourself?
Presentation will go through augmented reality technologies (in particular: computer vision and 3D graphics), showing, what it is really like to make augmented reality based product: what tools to use, what concepts you need to know to make design decisions.
There was Christmas party in my company with dress code: future. So I decided, that realistic future is not physical cloths of Storm trouper from StarWars, but cloths designed for Augmented reality. Initial idea was to create full blown Augmented reality costume, but with current deadlines and available technologies results was: Android app, that will put Storm trouper helmet only on me and some smaller 3D models when you look closer into the T-shirt.
So I created end-to-end Augmented reality product and have some practical experience to share with you.
Technology stack was fully Open Source or free: ARToolKit, Blender, AndoridSDK, InkScape (little OpenCV for presentation purpose only). Presentation will not be only a list of technologies, but more like: concepts and how they influenced various decisions in making final product.
Speakers
Attachments
Links