/
/
/
Developer rooms
/
/
Over-the-air Audio Identification
Over-the-air Audio Identification
How to build a system for matching a partial audio recording from noisy environments with an audio track or a real-time stream of audio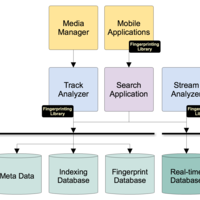 Over-the-air (OTA) audio identification provides us means to recognise sounds even in noisy environments. Popular uses for OTA identification includes recognition of audio tracks, radio or television stations, advertisements in cinema theatres & malls, etc...
In this talk we will take a look at how an OTA identification system is like and go over its significant components one by one. We will understand the underlying physics and governing mathematical equations. We will also talk about open source software and libraries, methodologies, algorithms, and the literature.
By the end of this talk, we will learn basics of how to build and develop a system for acoustic fingerprinting and matching a partial audio recording with an audio track or a real-time stream of audio.
Speakers
Attachments
Links