How to promote us ...
Here after you will find some FOSDEM ads ... feel free to use them to promote the event.

You will find here flyers to print and banners to add to your personal site in order to reference FOSDEM. Feel free to use them and send us a mail so we can talk about as well!
Flyers for you to print:
Banners for your site:
This banner has been made by Benjamin Jorand, a FOSDEM site visitor's:




A nice one, from Argon7:




Another nice one from Argon7... in vertical:



... or will you choose the gray one ??? (still Argon7 made):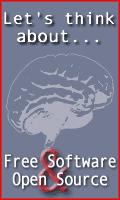 They promote Fosdem:


| | |
| --- | --- |
| | Special announcement |

FOSDEM 2003
will take place
on February 8 - 9 2003
in Brussels...

| | |
| --- | --- |
| | FOSDEM search |


| | |
| --- | --- |
| | Contest |


Best background:



Create the coolest Fosdem background design and win cool stuffs... More info

| | |
| --- | --- |
| | Sponsors corner |