David Llewellyn-Jones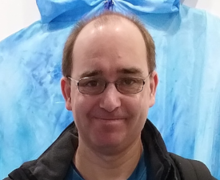 David Llewellyn-Jones is a "Sailor" and software engineer at Jolla, working with open source code and Sailfish OS, living in Tampere, Finland and Cambridge, UK.
Sailfish OS is a mobile operating system based on Linux with a glibc userspace and Qt/Silica user interface. David has worked at Jolla for the last four years, where he mostly focuses on the Gecko-based Sailfish Browser, sync components, apps and user interface.
Prior to Jolla, David has worked in many different academic, research and software-engineering related roles, including at the University of Cambridge, Liverpool John Moores University and Codemasters. David has a PhD in Mathematical Model Theory from the University of Birmingham. He's a passionate advocate of open source code and privacy in technology, and has been developing open source software for nearly three decades.
Links
Events