/
/
/
Developer rooms
/
/
The Digital Services Act 101
The Digital Services Act 101
What is it and why should you care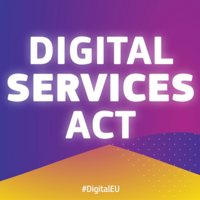 Europe's new rulebook to ensure safe, ethical and transparent online spaces, the Digital Services Act (DSA), entered into force on November 16th. In a few months, this regulation will apply to a range of digital services operating in the EU, from intermediary and hosting services to social media platforms and search engines. The DSA will require big changes from the biggest players in social media and search (those with over 45 million 'active monthly users' in the EU); content moderation capacities, data access transparency tools and annual audits will now be mandated and governed. This groundbreaking text is the first of its kind, and has already inspired both legislation and voluntary corporate practices around the world.
This lighting talk will speed through the major implications of the DSA and the changes big tech is likely to roll out in response.
On October 27, the Digital Services Act was published in the Official Journal of the EU, culminating years of legislative and advocacy effort. The regulation will impose a sweeping new regime imposing transparency and accountability requirements on digital services operating in the EU. The DSA is asymmetric in structure, with the largest obligations falling to the largest platforms and search engines - those with a systemic role in society.
Specifically, these big players will need to - improve content moderation capacity and reporting mechanisms - provide access to data for vetted researchers - assess and mitigate their systemic risks - have annual third party audits - abide by relevant codes of conduct - ban targeted advertising on online platforms by profiling children or based on special categories of personal data such as ethnicity, political views or sexual orientation - provide a recommender system not based on user profiling (under the GDPR definition) - refrain from 'dark patterns' on their interfaces
Against the backdrop of Elon Musk's acquisition of Twitter and Meta's gutting of its transparency tool Crowdtangle, the DSA is the EU's promise to reset a big tech ecosystem.
Speakers
Links