/
/
/
Main tracks
/
/
Maker Tools in the Browser
Maker Tools in the Browser
CAM to 3D Printing: Zero Install, Always Up to Date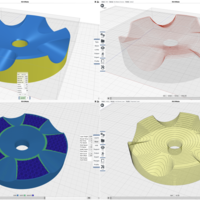 The tools necessary for 3D printing, CAM and CNC, and other maker-based activities are available to run instantly in the browser with no software to install. This is ideal for STEAM education, online coursework, maker spaces, or anywhere you either can't install software or can't keep it up to date.
Modern browsers expose substantial computational power with access to multiple cores, shared memory, GPUs, and near-native code execution with Web Assembly. It is possible to present complete browser-based replacements for applications that were previously only the domain of desktop-installed software. Add in the capabilities of Progressive Web Apps, we get always-on, always up-to-date applications that start instantly and have a fraction of the footprint of their desktop counterparts.
The focus of this talk, Kiri:Moto, was started in late 2013 as a 3D printing slicer when the cohort of available tools was very limited. It has since evolved to handle 4-axis CAM, laser cutters, and mSLA output targets. Kiri:Moto was one of the first slicers to support belt 3D printers. And this cutting-edge work will soon extend to 5 axis FDM.
Kiri:Moto runs both online and offline (as a progressive web app) in standard browsers as well as mobile devices and tablets. It pushes the boundaries of what's possible inside the browser sandbox using web workers for distributed computing, WASM for accelerated computation, and ThreeJS for visualization.
The active base of users skews toward college and high-school classrooms, maker-spaces, and individual creators. It is available (also free) inside of Onshape's web-based CAD, helping to make a complete in-browsers stack requiring no software installation to go from design to manufacture.
Speakers
Attachments
Links