Rinke Hendriksen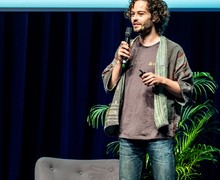 Please find me on: LinkedIn (https://www.linkedin.com/in/rinkehendriksen/) or Twitter (https://twitter.com/EknirNL)
We live in an age where each of us has god-like powers at their fingertips. Simultaneously, we face many big problems, demanding flexibility and ingenious thinking to resolve.
The power of technology may be a key in resolving the issues we face, but as with each great power: yielding it comes with a risk. In the case of technology, it is of utmost importance that the platforms, as well as the ways via which information flows, are neutral; no single person or entity must be at the center of those places where we, as society come together and exchange information to collaborate on solving the biggest problems of our age. Decentralized technologies come into play at this point. They are key to realizing the potential of a globally connected humanity.
Technology is not the only answer. It is equally important to know when not to use technology. To know when to turn of devices and sense the beauty of what is around.
I approach the world with an open mind and take pleasure in continuously blending my expertise from various domains such as economy, computer science and leading teams together with the ever expanding insight that each new day brings.
Links
Events