/
/
/
Andrés Pereira de Lucena
Andrés Pereira de Lucena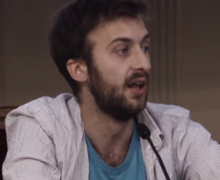 Andrés Pereira de Lucena. Software developer and system administrator specialized in free software and citizen participation. Co-founder of the Decidim project (https://decidim.org), since 2015 he's actively working in improving this digital infrastructure, first as a consultant for the city of Barcelona and now with the Decidim Free Software Association.
For the past decade he has been working in different projects related to the implementation of participatory mechanisms in Spain with different kind of organizations, such as municipal and provincial governments or political parties.
He has worked in aLabs.org, an organization dedicated to producing open social tools that directly affect the environment, whether advising on the social use of new technologies or developing software for social movements or institutions, with projects such as nolotiro.org, a website to give away and look for free second-hand gifts that want to promote reuse and reduce consumption and participa.cloud, which seeks to facilitate access to any type of organization to have a citizen participation portal.
Links
Events