/
/
/
Developer rooms
/
/
Trajectware - timeline-based navigation across computing heritage
Trajectware - timeline-based navigation across computing heritage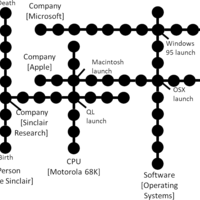 The history of calculation, information processing and computation is very rich. It is driving the industrial revolution and digital transformation of our world. This history is composed of many events related to conceptual and technological breakthroughs. In order to help in the analysis (by researchers) and explanation (to citizens), the NAM-IP Computer Museum is actively developing the "Trajectware" Open Source framework based on a the structuration of illustrated events in the form of timeline fragments that can be explored using various navigation operations to focus on specific periods, aspects (technological, conceptual, cultural, contextual,...) or the involved people/organisations.
This talk is intended to everyone. It will first present the global design based on (1) a knowledge base back-end inspired by different ontology standards (SEM, DOLCE/Spatial History Ontology, Constructed Past Theory, DBPedia) and accessed through queries and/or a specific API to extract a relevant timeline, and (2) a navigation front-end, currently based on ReactNative. Different timeline navigation features will be illustrated on a concrete application case: the "micro-computer, meg@ revolution" exhibition of the NAM-IP museum.
Through our presentation, we hope to trigger interesting discussion about our current work and to gather suggestions and interests to grow this project !
Speakers
Attachments
Links