/
/
/
Developer rooms
/
/
Opensource WiFi chip (openwifi) progress and future plan
Opensource WiFi chip (openwifi) progress and future plan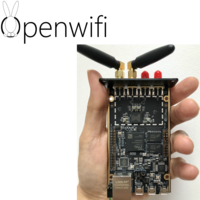 The openwifi project (opensource WiFi chip) was firstly introduced in the fsr dev room of FOSDEM2020, Brussels. So it would be our honor to give the annual update of the project in the same event!
This year we will bring these contents:
Features added in 2021
Bug fixes in 2021
Some initial test results by the R&S CMW270 WiFi tester
The community growth we saw in 2021: the new cheaper hardware; the new applications/papers; etc.
Our current focus and future plan: the progress of WiFi6/802.11ax development; etc.
Related event:
Speakers
Attachments
Links