/
/
/
Developer rooms
/
/
ChatStat - An R package for Matrix stats
ChatStat - An R package for Matrix stats
Shiny stats for your community goodness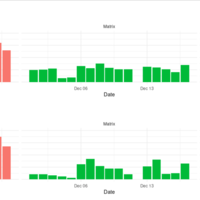 Remarkably, the Matrix community still does not seem to have a equivalent to things like the venerable mIRCstats or PISG packages (which generate data based on a local IRC log). In this lightning talk, I'll present a new package I'm working on to present similar data for Matrix rooms. We'll have a quick demo and lots of pretty graphs to look at.
ChatStat aims initially to replicate the same kind of HTML report that these older packages created, and we'll show how to use it on your own host to generate stats for your rooms using the Matrix API.
Since Matrix has bridges, we can also directly gather data on these from connected rooms (e.g. the screenshot shows the split between Matrix and IRC users over a 2 week period) and we will show how to accomplish this too.
Lastly we'll talk about the underlying data structure and how to use it to build new graphs that ChatStat does not yet do itself.
Who is this talk for: Anyone who runs one or more Matrix rooms and wishes to generate visualisations of them. Or anyone who likes pretty graphs :)
Speakers
Links