/
/
/
Developer rooms
/
/
Nextcloud in 2021
Nextcloud in 2021
Overview of 3 releases and a bit under a million features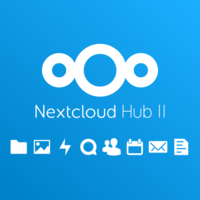 Nextcloud did 3 major releases in 2021, one of which we named "Nextcloud Hub II"because it was such a big step forward for online collaboration. Let's go over what is new!
A short overview: * Nextcloud 21 brought major performance improvements with the High Performance Back-end for Files and other improvements. * Nextcloud 22 brought user-defined groups and workflows, document signing integration, a knowledge base, and many Talk improvements. * Nextcloud 23 or Hub II introduced Nextcloud Office, appointment booking, background blur, permissions and more in Talk, Nextcloud Backup, AIO docker image, and much more.
Join the talk for more details!
Speakers
Links