Reshma Begam Pattan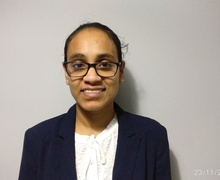 Reshma Begam Pattan Network Software Engineer Intel Ireland
Reshma Pattan is as network software engineer in Intel's Network Platform Group.
She has masters in Electronics and Communications from NITK Surathkal, India.
She started her career with writing code for 1xEVDO telecom products RNC, RN and PDSN for Airvana Networks.
Subsequently she had worked on Flexi platform for ATCA based Nokia's Flexi Server.
She is currently working for Data Plane development Kit(DPDK), where she contributed to Packet capture framework library, Pdump application, Latency stats library, Packet reorder library. Flow API support for SoftNIC, Packet Framework and Pipeline application.
Reshma's interests are exploring travel, lifestyles, foods, playing with kids and she is a die hard fan of horror movies.
You can reach her: reshma.pattan@intel.com reshma.begam@gmail.com https://www.linkedin.com/in/reshma-begam-pattan-0450756/
Events