John Sullivan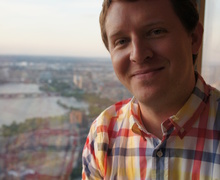 John Sullivan has worked in several different positions at the Free Software Foundation since 2003, including Shipper, Campaigns Manager, and Manager of Operations. He became Executive Director in 2011.
Since 2011, the FSF has grown by over 50% in staff size. John is deeply involved in every area of the Foundation's work, including outreach and advocacy, licensing education and enforcement, technical development and infrastructure, and business operations.
His background is mainly in the humanities, with an MFA in Writing and Poetics from the Jack Kerouac School of Disembodied Poetics at Naropa University, and a BA in Philosophy from Michigan State, but he has been spending too much time with computers and online communities since running a BBS on a Commodore 64. He's a dedicated GNU Emacs user, and has contributed code to several of its extensions.
Prior to the FSF, John worked as a college debate team instructor for both Harvard and Michigan State University. He prefers he/him/his.
John has spoken at and keynoted events regularly since 2004, including the Libre Software World Meeting, Open World Forum, Salon du Logiciel Libre, LibrePlanet, DebConf, and OSCON.
Events