Amanda Brock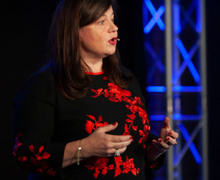 Amanda has been a senior international in-house lawyer and business person for 25 years. She qualified as a solicitor in England and Wales in 1995 and has law degrees from the University of Glasgow, NYU and Queen Mary, University of London. She has mostly been in house which started formally in 1999, as the first lawyer to work on the Freeserve ISP, taking it through to IPO.
Her FOSS engagement began in 2008 when she became General Counsel of Canonical, setting up the legal department and working with Ubuntu. During her 5 years at Canonical and since, she has been an active participant in the FOSS community. Having represented Canonical as an Associate Board Member until 2012, Amanda has been a European Representative of the Open Invention Network since 2012.
Community participation has included being on the OpenStack legal committee that worked on the foundation of OpenStack, the Linux Foundation's General Counsel Committee, leading Project Harmony, playing a significant role in the European Legal Network becoming the pre-eminent organisation for lawyers with an interest in Free and Open Source matters and promoting open source across a variety of sectors. She has been external counsel to Mozilla and the Genevi Foundation.
Amanda is a frequent international speaker on topics around open source and tech and has spoken for over a decade at a slew of FOSS events, from FOSDEM, Open Stack and the Linux Foundation to Open Source for Business, Genevi, Transfer Summit, FINOS and the ELN annual conference.
She writes on technology and legal issues, with a weekly column on tech in TheArticle.com and is a founding editor of the International Free and Open Source Law Review. She is author of "E-Business: A Practical Guide to the Laws" (2 editions); the commercial agreements chapter of the Oxford University Press' "Free and Open Source Software, Policy, Law and Practice"; and was co-author of Insurance Broker's Marsh's Cloud risk framework in 2011 as well as contributing to numerous other journals and publications on IP and Open Source.
Links
Events