Sumana Harihareswara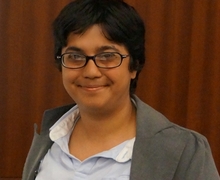 Sumana Harihareswara is the founder of Changeset Consulting, and an open source software contributor (GitHub) and project manager with over a decade of experience in the software industry. Her past leadership in nonprofit, academia, industry, and volunteer organizations earned her an Open Source Citizen Award in 2011. She lives in New York City.
Harihareswara frequently speaks and writes about open source and management; she was keynote speaker at Open Source Bridge in 2012, code4lib in 2014, and Wiki Conference USA in 2014.
She was most recently Senior Technical Writer and Engineering Community Manager at the Wikimedia Foundation. She has also managed projects at Collabora, GNOME, QuestionCopyright.org, Fog Creek Software, Behavior, and Salon.com. From mid-2014 to early 2015, Harihareswara served as a member of the board of directors of the Ada Initiative. She holds an MS in Technology Management from Columbia University and and a BA in political science from the University of California, Berkeley, and participated in the Recurse Center in 2013 and 2014.
Links
Events