Carsten Agger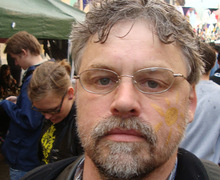 Developer, writer and activist with a focus on free software and free technology.
Currently employed as a developer for the Danish software company Magenta, which specializes in building only free software for its customers.
I also volunteer as a developer for the Rede Mocambos in Brazil, where I work on the Baobáxia project, focusing on the Django implementation. I also volunteer as a European contact for the Technoshamanist/tecnoxamanismo network in Brazil, in which connection I organized a Technoshamanist minifestival in Aarhus in November 2014.
I spent some time volunteering as a local group coordinator with the FSFE and as a board member of the local hackerspace. In these capacities I co-organized the LibreOffice Conference 2015 in Aarhus, Denmark.
Links
Events