Stéphane Desneux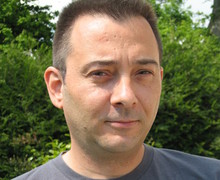 Stéphane is a senior software engineer, with a wide and recognized experience in many technical and managerial fields.
Stéphane began his career as a consultant and trainer in the domain of relational databases and was specialized in server technologies: Unix systems programming, client/server protocols, performances & tuning on RDBMS, data ware-housing conception/optimization.
Being an early adopter of GNU/Linux & Free Software, he co-founded Open Care in 1999: it was one of the first IT companies in Europe to offer technical support, development and professional services on free software (50 employees, offices in France, U.S.A and China).
Since then, his experience has led him to be responsible for multiple R&D departments within different structures, always involved in breakthrough technologies: digital signage, innovative web development, behavioral analysis on the web, embedded marine systems design ...
Stéphane joined Eurogiciel as senior software engineer and is currently highly involved in the Tizen project (http://www.tizen.org/): he's leading Tizen:Common as release engineer and participates actively to Tizen 3.0.
Events