Thomas Schwinge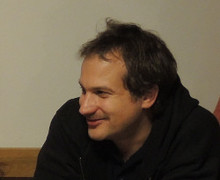 Long-time Free Software/Open Source software user and contributor -- and FOSDEM visitor.
Many years ago, I figured out some GCC/glibc configuration issue for the GNU Hurd, and then quickly moved deeper and deeper into the wonderful world of systems programming, and software development tools.
Dipl.-Ing. degree in Electrical Engineering and Computer Engineering from the University of Stuttgart.
For several years now, I have primarily been working on GCC (GNU Compiler Collection), in particular adding support for OpenACC (a directive-based parallel programming model) with code offloading to Nvidia GPUs, employed by Mentor, a Siemens Business (... what used to be Mentor Graphics, what used to be CodeSourcery).
Links
Events