Robert Virkus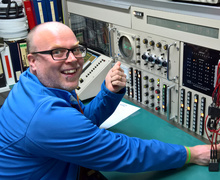 Robert works on mobile offerings since the 1997. In 2005 he published an open source framework for developing mobile apps and today he works for the open source company OX.
Robert has worked in the mobile industry for more than 20 years. Having been involved in a number of open source projects, and initiating one of the most successful pre-smartphone mobile app development frameworks, he tries to push the envelope based on open & permission-less standards. In his spare time he likes to draw, play with his retro computers and spend quality time with his family. Robert has given talks at various conferences such as Droidcon, CeBIT, MobileTech Conference and more. He is currently product manager for e-mail and chat apps at Open-Xchange (OX).
OX is known for its open source email, productivity and security solutions. Dovecot, the world's most used IMAP server, is also part of the OX family.
Links
Events